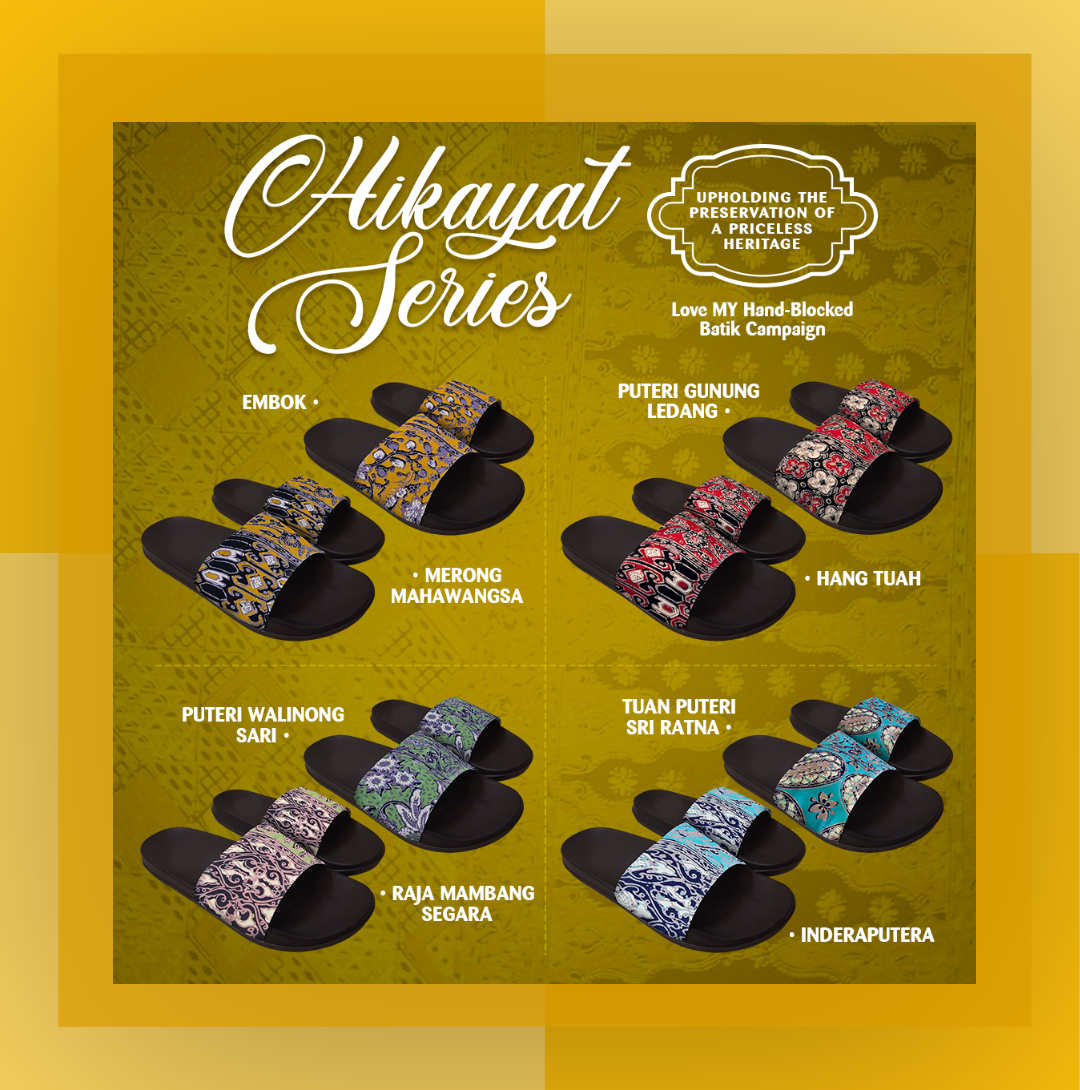 Please welcome the 4th Ann Zahid Footwear Series, of our Love MY Hand-Blocked Batik Campaign - the 1st Malaysian Hand-Blocked Batik Sandals - the "Hikayat Series".
The Batik Sandals came about largely to share with all of you another version of the Malaysian Hand-Blocked Batik kicks for easy wear.


They are suitable indoors as house slippers.

They are practical to walk around the house in checking on your lovely plants or fish pond.
They are also cool and comfy for your trip to the grocery store.

Amazing gift idea!
Proudly labeled the Hikayat Series depicting our epic saga of the Malay archipelago literatures, yes they come in sizes for the men namely Merong Mahawangsa, Hang Tuah, Raja Mambang Segara and Inderaputera. So there are six edgy designs for the gentleman to choose from.

For the ladies we named them Embok, Puteri Gunung Ledang, Walinong Sari and Tuan Puteri Sri Ratna with five lovely designs.

Each of the Malaysian Hand-Blocked Batik used for this production was articulately selected by us and personally assisted by our counterpart @wmt_bateek in Kuala Terengganu, Terengganu. Epic as the sandals names, we had distictively chosen to again boast our Malaysian Hand-Blocked Batik by the Legendary Arwah Wan Ahmad Azhar of Seberang Takir, Kuala Terengganu, Terengganu.

We were so opportune again to have had the chance to work very closely with his daughter Fidah for this series. We therefore lovingly tribute this series to him. His exquisite talent, passion and dedication towards the Malaysian Hand-Blocked Batik is hoped to be upholded and preserved by generations for years to come. We are proud to be able to be a part of this minute noble effort.

Each pair is ONE IN THE WORLD!
#BatikbyAnnZahid for the World! ❤
---